Additional Resources
Related News/
Press Releases
Saniflo Basement Hideaway Article
Saniflo
Case Study 104:
Brentwood, TN
For the Media:
A Better Way to Build a Basement Bath
Balking at the cost to pound through a concrete floor to install a sewage ejector or even conventional plumbing? Check out Saniflo macerating technology – the above-floor alternative for creating a new bathroom below the sewer line.
EDISON, NEW JERSEY (JULY 30, 2008) — It's an all-too-common scenario: You want to create a completely new bathroom in your basement, so you call a plumber for an estimate. With either conventional plumbing or sewage ejection, you discover that your installer must dig through the concrete flooring. That means a messy and time-consuming job – and a high job estimate from the contractor.
Read more...
| | | |
| --- | --- | --- |
| | Download Release: | MS-Word (.doc) |
| | | Text (.txt) |
| | | Adobe Acrobat (.pdf) |
| | | |

To download a hi-res .tif file, click on the desired image and a zip archive automatically downloads to your computer. Due to how various browers handle downloads, you may have to expand the zip archive manually.

The zip archive expands into a .tif file (6" wide x 4" high; 1800 x 1200 pixels; 300ppi; CMYK; unless otherwise specified).

---
Above-floor plumbing permits the creation of a full bathroom – tub and/or shower, sink and toilet – where none previously existed. The macerating unit, seen here behind the toilet, can also be located out of view inside the wall.

File Name: SF0819-BW-1-SaniBest.tif
Image Size: 6" wide x 4.25" high (1800 x 1275 pixels)
---
Saniflo offers a broad assortment of macerating and gray water systems to meet the needs of an equally broad range of applications, both residential and commercial.

File Name: SF0819-BW-2-SanifloLineup.tif
Image Size: 6" wide x 5.75" high (1800 x 1725 pixels)
---
Macerating tank box without toilet, but including drainage piping leading to sink and tub/shower. All of these components may be concealed behind the wall for a more finished installation that looks virtually the same as a conventional bathroom.

File Name: SF0819-BW-3-Sani-080.tif
---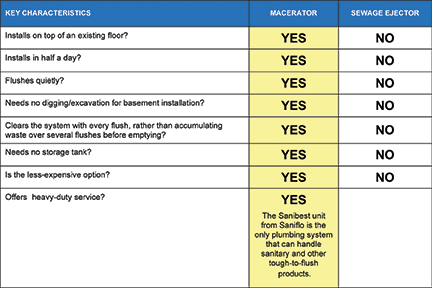 Key characteristics comparison chart between a macerator and a sewage ejector.

File Name: SF0819-BW-Chart.tif
---
How Maceration Works
The toilet (not shown) is flushed and, as the effluent flows into the macerator tank box behind the toilet, the grinder motor inside activates automatically.

File Name: SF0819-BW-4-Working.tif
Image Size: 6" wide x 4.5" high (1800 x 1350 pixels)
---
Driven by the motor, the macerator's blades grind the contents of the effluent into tiny particles in only three or four seconds.

File Name: SF0819-BW-5-Working.tif
Image Size: 6" wide x 4.5" high (1800 x 1350 pixels)
---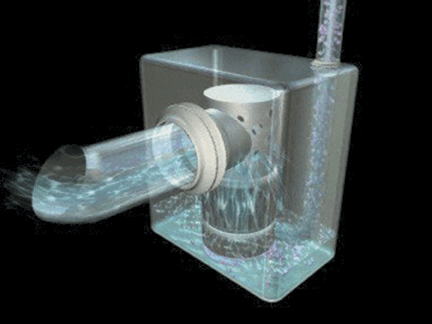 The particles are pumped out of the macerator tank through standard plastic piping, 3/4-inch or one-inch in diameter, depending on the Saniflo model.

File Name: SF0819-BW-6-Working.tif
Image Size: 6" wide x 4.5" high (1800 x 1350 pixels)
---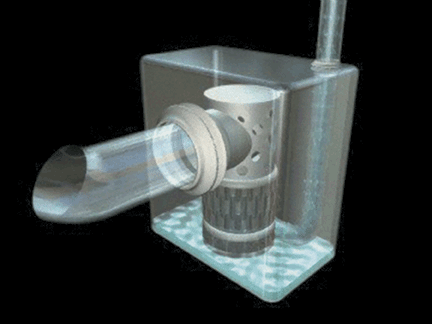 The macerator tank is now empty, apart from the water seal, so the system is ready for the next flush.

File Name: SF0819-BW-7-Working.tif
Image Size: 6" wide x 4.5" high (1800 x 1350 pixels)
continued from above...
Mike Sikorski says those expensive options were turning off his basement-renovation customers. Today, the East Taunton, Mass., plumber routinely – and happily – recommends Saniflo aboveground plumbing instead. "I think the last sewage ejector I put in was about three years ago," he says. "I recommend Saniflo for all my basement baths now. It's less invasive, it's a 'cut-and-dry' installation, and there are no surprises."
Sikorski has found that homeowners respond well to the lower bids. "By using the Saniflo system, you get more bang for your buck, and if you can save people money, that's a plus."
Saniflo makes modern low-consumption toilet systems that use special above-floor, or "macerating," plumbing technology, so there is no need to dig up the floor to install a bathroom. A macerating toilet looks very much like a conventional toilet and takes up roughly the same floor space. But instead of routing the flush water through underground drainage lines to a conventional sewage ejector, the system moves it to a macerating pump, usually located on the floor between the toilet and the wall. Or it can be hidden behind the wall with an extension piece.
The macerator pump uses a fast-rotating blade to liquefy waste and toilet paper in the flush water. The waste is released under pressure through small-diameter piping to the sewer or septic tank. The technology requires no special maintenance, and the pump is sealed for life.
KEY CHARACTERISTICS

MACERATOR

SEWAGE EJECTOR

Installs on top of an existing floor?

YES

NO

Installs in half a day?

YES

NO

Flushes quietly?

YES

NO

Needs no digging/excavation for basement installation?

YES

NO

Clears the system with every flush, rather than accumulating waste over several flushes before emptying?

YES

NO

Needs no storage tank?

YES

NO

Is the less-expensive option?

YES

NO

Offers heavy-duty service?

YES*

NO

*

The Sanibest unit from Saniflo is the only plumbing system that can handle sanitary and other tough-to-flush products
---
While this above-floor system is equivalent to traditional plumbing, one Saniflo product out-performs both conventional and sewage-ejection systems. The Sanibest uses a unique grinder to handle feminine products and other objects that would wreak havoc if flushed into a sewage ejector or a traditional toilet.
Satisfied customer: Tom Proudler is one of Mike Sikorski's customers. The Santa Rosa, Calif., building contractor traveled to Raynham, Mass., to help his daughter with a basement renovation in her home. He had never heard of above-floor plumbing before Sikorski recommended it. "It's the neatest thing," Proudler says. "It's not as noisy as an ejector, and it saved us a ton of money. I've told my California plumber friends about it, and they think it's dynamite, too. We don't have basements there, but in situations where they have to pump uphill, Saniflo saves a lot of monkeying around."
Indeed, the simplicity of the above-floor solution is at the heart of its appeal to homeowners, according to Sikorski. "With a sewage ejector – just as you would for conventional plumbing – you've got to jackhammer and dig up the floor, not knowing what's beneath. Then you have to re-cement it. Frankly, digging is unpredictable.
The hazards are several, Sikorski explains. "To start with, I don't know how thick the floor is, or if there are unforeseen rocks or pipes. And if I run into a ledge, the customer has to reconfigure the layout for the bathroom – which is not always in the customer's favor. Plus, any time you disturb the concrete floor, there's a chance of water seeping through."
In addition to the obvious advantage of installation on top of any floor surface, Saniflo systems can handle all the fixtures in a bathroom – not just the toilet – and can work up to 15 feet below and as far as 150 feet away from a septic tank or sewer line. Plus, there is no need for a storage tank to hold accumulating waste.
The problem with sewage ejection: With sewage ejectors, drain lines and a tank must be installed, which means major concrete excavation. "There's really nothing to be gained by using sewage ejection," says Rob Weed, a manufacturers' representative with Studnicky Associates, which serves Saniflo distributors and installers in Virginia, Maryland, Delaware, southern New Jersey and Eastern Pennsylvania. "You still have to trench through the concrete just as you would have to with conventional plumbing."
"With a sewage ejector, you're also limited to an area with enough space for the sewage tank and a way to access it," Sikorski explains, noting the tank is about 30 by 30 inches. Typically, these storage tanks accumulate waste over numerous flushes; then the ejector pump moves the waste and water up into the main drain.
"When not installed properly, the tank cover can leak water if the pump fails and also cause gases to come into the house," he says. "You don't have that problem with Saniflo," which pumps the system clear of waste with every flush, so there's no need to store the effluent.
"What if you had a leak?" The possibility for a storage-tank leak kept homeowner Frank Hunt from choosing a sewage ejector pump when he remodeled the basement in his suburban Chicago home and added a bath. "I didn't care for the idea that there would be a storage tank of that size," he explains. "What if you had a leak in that big tank?" Instead of taking that risk, Hunt chose a macerating system for his project.
A Saniflo above-floor plumbing system can be installed in half a day, on top of any floor, with no digging and very little mess. That saves the customer a lot of hassle and a lot of money. With Saniflo's ¾-inch discharge pipe, it's simple to install the system even in a tight space. Typically, a sewage ejector will require a two-inch pipe, adding not only installation challenges, but also the aforementioned noise factor.
"I don't understand why more installers don't recommend using macerating technology, especially for basement bath additions," Weed points out. "Hands down, it's a better way to go. And every time I'm at a home show, someone comes to the booth and says they just put in a sewage ejector and had to tear up the floor. They didn't know about Saniflo."
"I haven't gotten a single call back on the above-floor plumbing bathrooms I've installed," Sikorski says. "I tell people I love Saniflo. It's so much easier, more convenient and less invasive. It saves my customers an average of $1,000, and that's on the low side."
"I'm a happy customer," Proudler confirms. "I'm glad Mike turned me onto to it."
SFA SANIFLO INC. is the only manufacturer of its kind in North America, offering a complete line of macerating toilet systems for residential and commercial applications. Saniflo markets through independent sales agents throughout North America, and the product line is currently available at distributor and dealer locations throughout the United States and Canada.
For more information about SANIFLO, call 1-800-571-8191. Or visit the Saniflo website at www.saniflo.com.
For editorial assistance, including photography, contact John O'Reilly c/o GreenHouse Digital + PR: 815-469-9100 or john@greenhousedigitalpr.com
# # #