Additional Resources
About Saniflo
News / Product Releases
Compact, Lightweight MAXLITE System from Saniflo Meets Every Boat Owner's Plumbing Needs
Saniflo Sanicom 1 Simplex Drain Pump Designed for Heavy-Duty Commercial Applications
Compact Sanineutral® Kit Neutralizes Condensate, Prevents Costly Corrosion in Piping Systems
Saniflo Names PEPCO Sales New Agent in Texas
SANIMARIN Delivers Quiet, Efficient, Reliable Plumbing Solutions for Every Boat Owner
SANIACCESS2 Macerating Unit With Double-Panel Access Permits Simple Powder Room Install and Faster Maintenance
Saniflo Offers New, More Contemporary-Looking China Bowls for Selected Macerating Toilet Systems
SANICONDENS® BEST Combines Condensate Pump With Built-in Acid Neutralizer
Compact, Dual-Flush SANICOMPACT® Saves Water, Turns Tight Spaces into New Powder Rooms
Feature Articles
Save water - and money - in the most budget-draining room in your house
Creating an island paradise: Tips for adding an island in your kitchen renovation
Outdoor kitchen? Second-floor laundry? How to easily achieve summer's hottest home improvements
The Pitfalls of Busting through Concrete
Case Studies
New Kentucky Kitchen and Bath Showroom Enhances Working Displays with Above-Floor Plumbing Systems
Boater Saves with Compact, Electric Marine Toilet
Historic Riverboat Sails Again with Revamped Plumbing System
Saniflo Provides Compact Plumbing Solution for Tiny Home
Saniflo Pumps Help Nonprofit "Shower Love" on the Homeless
Wastewater Pumps Help Underground Bunker Owners Prepare for the Unthinkable
A Plumbing Miracle: Grinder Pump Saves Church $30K in Installation Costs over Conventional Drainage
Taking a Leap of Faith: New York Plumbing Contractor Converts to Above-Floor Grinding Technology
Practicing What He Preaches: Contractor Chooses Above-Floor Plumbing System for his Log Cabin Home
Taking Care of Business: Indiana Wholesaler Saves 12 Hours in Labor Installing Above-Floor Plumbing Systems for New Restrooms
In Wake of Hurricane Sandy, Resourceful Plumber Provides Homeowner with Money-Saving, Above-Floor Plumbing Solution
For Rent: Above-Floor Plumbing System Transforms Wholesaler's Family Room into Studio Apartment!
Landmark Wurlitzer Building Saved Nearly $20,000 On New Sanitary Line with Above-Floor Plumbing System
Saniflo Gives Hajoca Orlando Timely Solution to Restroom Drainage Problem, Showing Maceration Not Just for Basements
Wastewater Pumps Help Underground Bunker Owners Prepare for the Unthinkable
Rising S Company employs Saniflo pumps as part of its underground bunker solution for those concerned about the future's uncertainties.
BY TONY BARA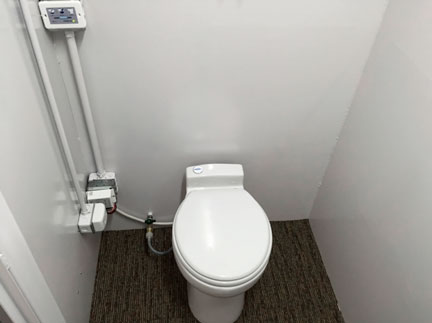 MURCHISON, TX (MAY 1, 2017) – For many seeking enhanced protection for themselves, their loved ones and their belongings in the event of a major natural disaster, widespread civil unrest, or infrastructure breakdown, Rising S Company offers a rather unusual, but formidable solution.
The company, founded in 2003, builds 100 percent steel, underground bunkers. "Our bunkers can be used as storm shelters or, more commonly, as refuges in the case of widespread civil unrest or nuclear attack," according to General Manager Gary Lynch.
Download / View
Case Study :
"We provide bunkers for customers all over the world, from all walks of life," says Lynch. Among the company's clients are prominent politicians, including senators and governors, he says. Although most of the bunkers are installed in rural areas, that is not always the case. "We just finished installing a bunker in the heart of downtown Chicago," reveals Lynch.
The bunkers range in price from $39,500 to $8 million and can contain anything from basic living quarters to amenities like bowling alleys, gun ranges, swimming pools and personal gyms. However, no matter what, one component that anyone surviving in an underground bunker will need is indoor plumbing. "If the infrastructure that society relies on becomes dysfunctional, self-sufficiency becomes the reality of life," states Lynch.


The Saniflo Solution
To make its bunkers self-sufficient from a plumbing standpoint, Rising S has been using drain pumps and macerating toilets for the past few years. Originally, the Texas-based company installed compost toilets exclusively, before deciding to explore an option that would eliminate waste instead of simply composting it. Composting toilets, in addition to creating the potential for odor, require regular maintenance, and Rising S wanted to mirror the simplicity of using a home toilet in its underground living spaces.
"We were looking for a product with a good name and lifespan that would provide our customers with the comfort and satisfaction they are accustomed to in their home bathrooms," underscores Lynch. "After testing a number of macerating and grinding pumps on the market," we decided that Saniflo was the highest-performing and most reliable option."
One of Rising S Company's first pumps was the Sanibest Pro, which employs a heavy-duty grinding system that easily handles the accidental flushing of sanitary articles, such as feminine products, baby wipes, dental floss, condoms, etc. The pump's 3,600 RPM motor, typically powered by DC voltage or solar power, grinds waste into slurry, which is then ejected through a ¾-inch discharge line and pumped up to 25 feet vertically or nearly 150 feet horizontally to a septic tank or city sewer.
More recently, Lynch has begun installing the Sanimarin35, which combines a macerating pump and an electronically activated toilet into a single, compact package. Models that are 12 and 24 volts incorporate a dual-flush mechanism that sends only a small quantity of water to the holding tank: 0.31 gallons of water for the economical ("Eco") cycle and 0.58 gallons for the normal cycle. The latter is adjustable to 0.79 gallons.
"We like these models because they combine all the necessary components into one compact toilet package and allow for an eco-friendly flushing option," explains Lynch. "The water supply comes from an underground tank or well, so conservation is crucial in such a scenario." In addition to wastewater pumps, Rising S also installs gray water drain pumps that discharge water from sink, shower and laundry applications in the bunkers.


Result
After five years of using the various pumps for its bunkers, Rising S has yet to be disappointed, according to Lynch. Certified master plumbers on staff install all the pumps and macerators and never run into any issues. "It's always a very straightforward installation from both the plumbing and electrical perspective," says Lynch. "Our customers are typically also impressed by the systems' ease-of-use, especially the easy flushing and disposal of waste."
Currently, about 50-60 percent of the underground bunkers built by Rising S utilize plumbing pumps, and Lynch expresses an interest in expanding their use. "We've found a good product and are sticking with it," he says. "We're very open to expanding our use of the pumps to further enhance the quality of life in our bunkers."
# # #

ABOUT SANIFLO
SFA SANIFLO U.S.A. – whose parent company originated macerating plumbing technology – offers a complete line of up flush toilets and gray water pumping systems for residential and commercial applications. Saniflo developed its innovative, "above-floor plumbing" technology more than a half-century ago and has led its commercialization worldwide. Today, the company markets macerating technology through 24 subsidiaries in 50 countries and has sold more than seven million units worldwide since 1958. Saniflo markets through independent sales agents throughout North America, and the product line is currently available at distributor and dealer locations throughout the United States and Canada.
For more information, contact Saniflo at 1-800-571-8191. Or visit the Saniflo website at www.saniflo.com.
For editorial assistance, including photography, contact John O'Reilly or Tony Bara c/o GreenHouse Digital + PR: 815-469-9100 or [email protected]; [email protected].
IMAGE GALLERY
To download an image file, click on the desired resolution needed: lo-res images open in a new window; hi-res images download as a zip archive to your computer. Due to how various browers handle downloads, you may have to expand the zip archive manually.

---

Saniflo macerating toilets grind waste to slurry before pumping it to a septic tank or city sewer, when used as part of an underground bunker.

Saniflo macerating toilets grind waste to slurry before pumping it to a septic tank or city sewer, when used as part of an underground bunker.

---

---

Saniflo macerating toilets grind waste to slurry before pumping it to a septic tank or city sewer, when used as part of an underground bunker.

Certain Saniflo models incorporate a dual-flush mechanism that sends only a small quantity of water to the holding tank.